Hey guys! Hope you are having a great day. Today we are going to discuss the difference between marble and granite. You may be aware that over the past 3 decades or so, marble and granite have been two of the most popular materials for kitchen tops in India.
​Through this blog, we will help you understand the advantages & disadvantages of both materials so that you can make a well-informed choice with regard to installing marble or granite platforms in your home. Let's begin!
How is the Appearance
Both granite and marble have a somewhat similar appearance and are smooth in nature. Commercial marble is generally available in black & white variations, while granite's colour ranges from light to dark and is available in flecks, veins or solid patterns.
Strength and Durability of Marble Vs Granite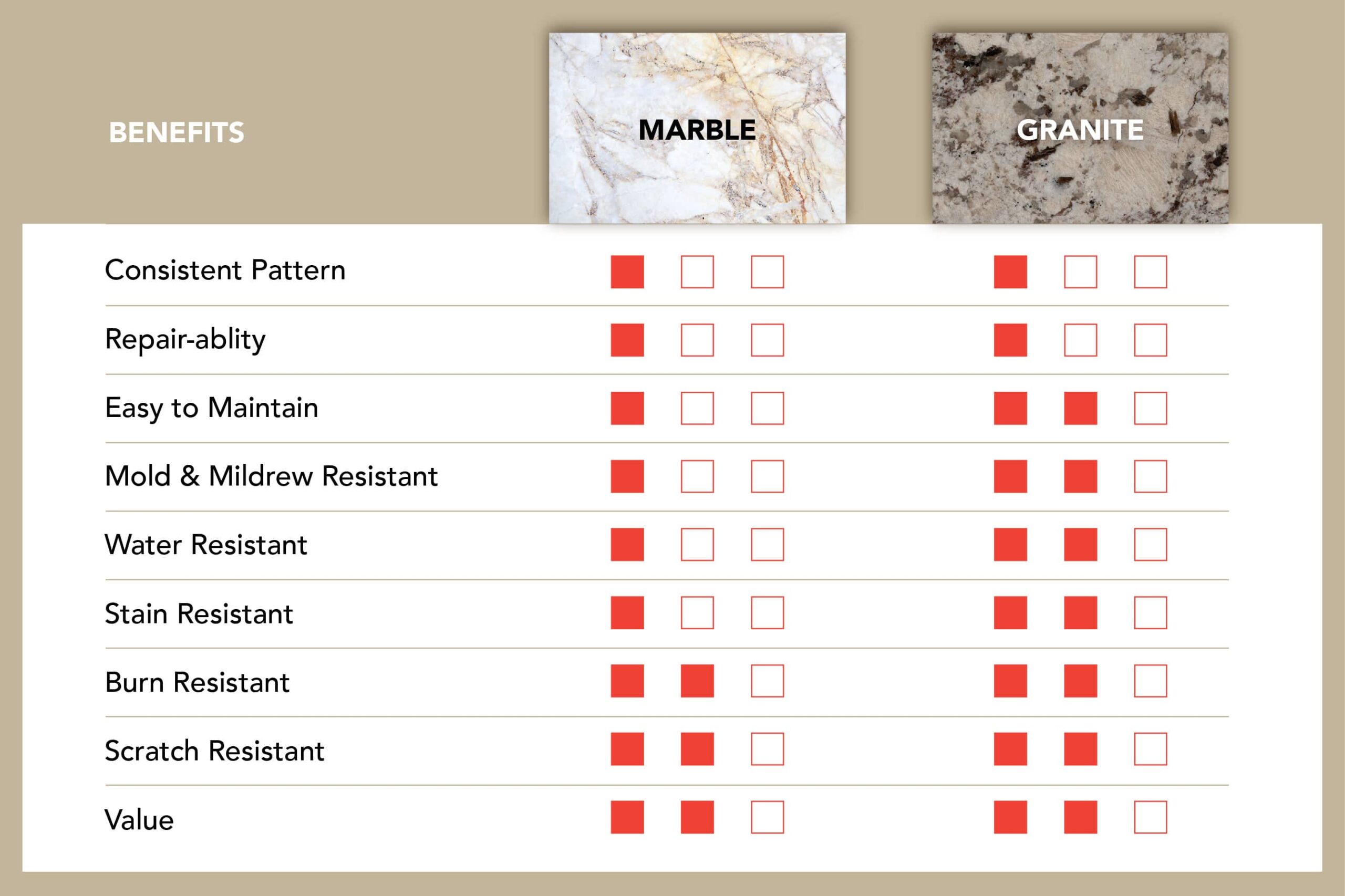 When it comes to strength and durability, granite is a comparatively harder stone than marble and doesn't easily get scratched or chipped. 
Its high resistance to discolouration from daily kitchen tasks makes it a perfect material for kitchen platforms both inside and outside the home.
In comparison, marble doesn't possess the same level of durability as granite and is likely to incur damage from daily activities like cutting. It may also get damaged if it comes in contact with hot pans & dishes.
Hence, marble is better suited for low-traffic spots like bathroom vanities, fireplace surrounds & decorative accents. Overall speaking, both materials generally last for several years, provided the right location is chosen for them to avoid damage.
Stain Resistance of Marble Vs Granite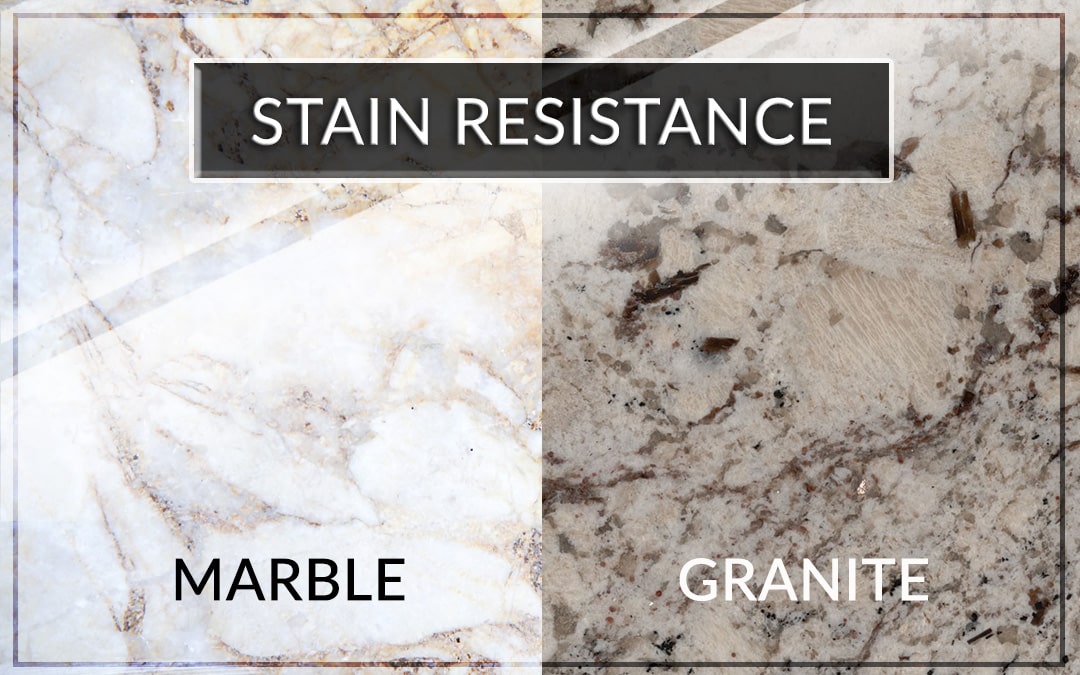 Marble is a more porous material than granite and hence can get permanently stained when in contact with certain foods and liquids like juice, tomato sauce, vinegar, wine, etc.
On the other hand, the high density of granite helps it resist almost all possible stains from foods and liquids if an effective sealant barrier is maintained on the granite.
Sealant of Marble Vs Granite
Speaking of sealants, granite's high stain-resistant nature provides it with an advantage in this respect. It requires less frequent sealer application than marble to ensure liquids do not gradually seep into them and their beauty is maintained.
Depending on the type of sealer, granite may need to be sealed annually or once in 3 years, whereas marble may require sealing twice a year for best results.
How to Clean Marble Vs Granite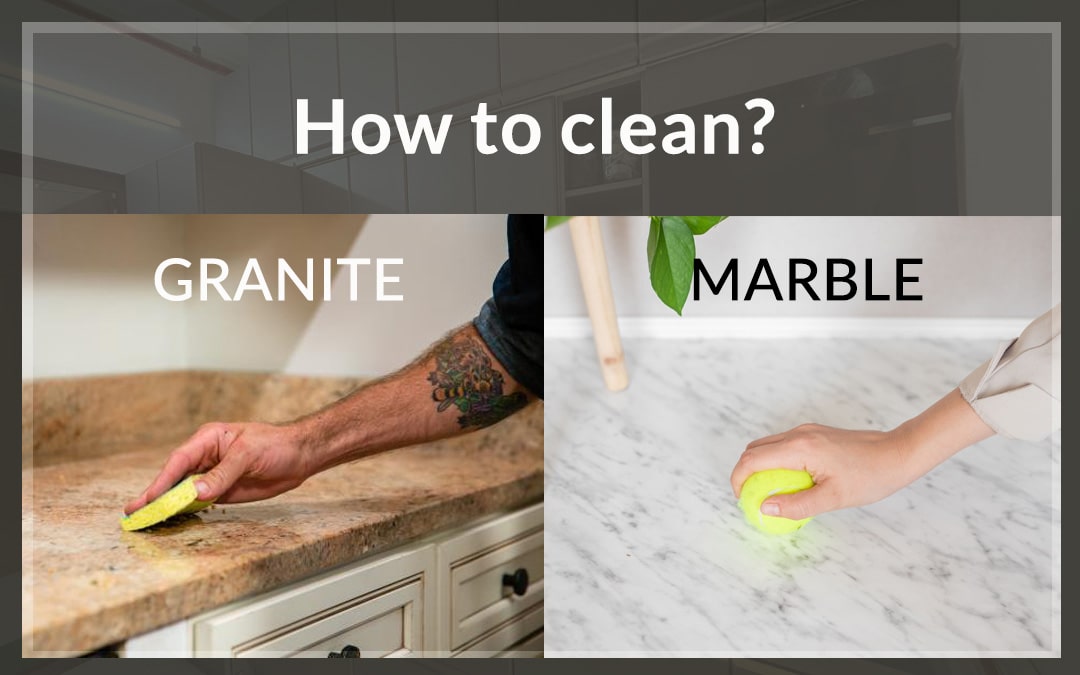 As far as cleaning is concerned, granite is much more hassle-free than marble as it can simply be cleaned using water with soap.
On the contrary, marble requires much more mindful cleaning to prevent damage and discolouring. A mild cleanser with neutral pH is necessary for cleaning marble without causing any negative impact.
Conclusion
Both marble and granite have their distinct qualities that affect their usage and maintenance. However, if used in the right location, they can prove to be highly durable and worth the money spent.
However, as times have changed, and technology & science have evolved, a new, most unique and ideal kitchen platform material has come to the fore with superior characteristics to that of both granite & marble!
Also, check out some of our other blogs
Glass Top – Most Unique Kitchen platform
Promkraft – Factory Virtual tour
Brillanteo – Glossier then Acrylic
Frequently Asked Questions (FAQ)
Which is Better: Marble or Granite?
Granite is better than marble as it's highly stain-resistant and is a comparatively harder stone than marble. It doesn't easily get scratched/chipped and provides a much more hassle-free cleaning experience than marble.
How is Granite Different from Marble?
Granite is different from marble in the sense that it ranks higher in terms of strength & durability, is highly stain-resistant and requires less frequent sealer application than marble.
Is Granite More Expensive than Marble?
No, marble is generally more expensive than granite. However, having said that, both materials can be costly.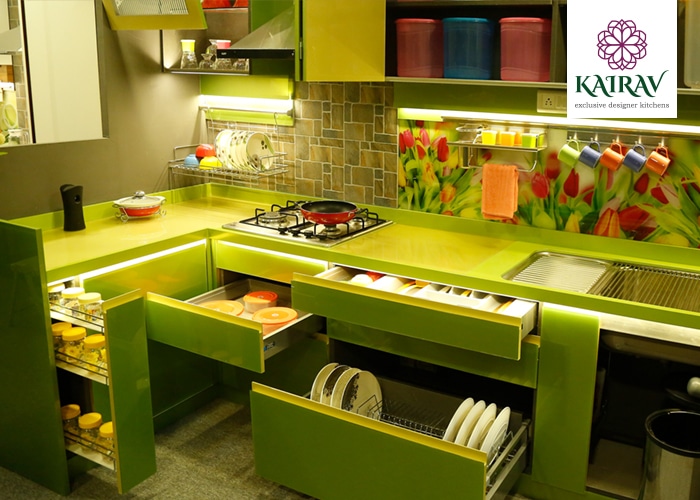 History of the Indian Kitchen Until the beginning of the twentieth century, Indian kitchens didn't even have platforms or storage cabinets. Mostly women, and some men, cooked on earthen choolas (stoves) mounted in the distant corner of the kitchen, and things were...